Place to start: Free IQ test with instant results
Are you curious about your intelligence, but never tried an IQ test before?
Then why not start with our sample IQ test. It's fast, fun, and free to take! Get a feel for the types of questions that will be asked in a full IQ test and gain instant access to your free results.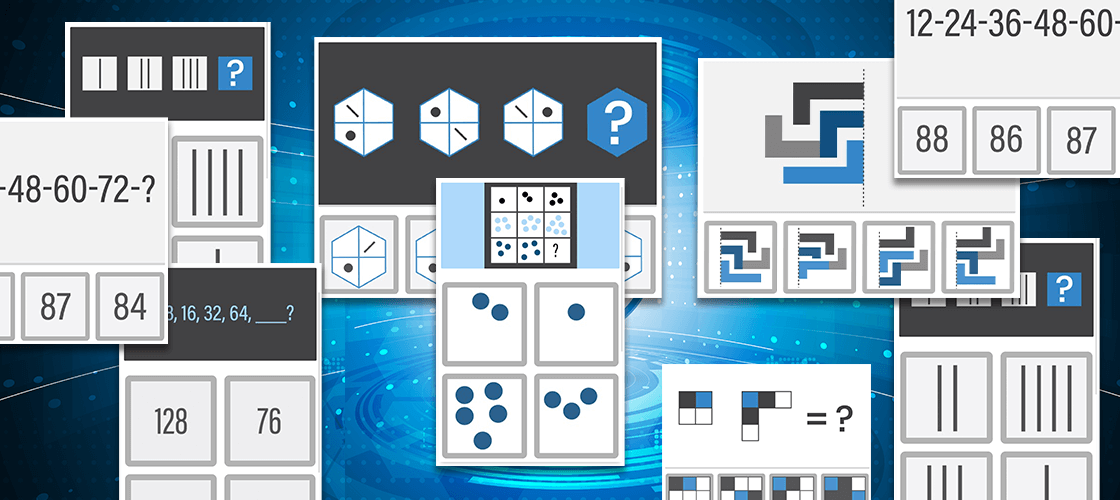 Free IQ test online - what to expect
Both our free and Premium IQ tests have been developed by experts in online intelligence testing. With enough statistical analysis, gathered over several years, we can confidently provide our users with an accurate estimate of their IQ level.
A full IQ test can contain up to 50 questions and is designed to test various aspects of your intelligence in depth. As a full-length version requires more time and commitment, many test-takers opt to try out a sample test first in order to get a quick feel for the types of questions they will be asked. The free result provided by our sample IQ test provides a good indication of how you will perform in the full Premium IQ test.
At just 5-questions, our demo test might not be the best free IQ test you can take online, but the questions you encounter in this free version are weighed individually based on their difficulty level and can still give an accurate estimate of your final intelligence quotient level without any time limit (many free intelligence tests found online require a standard 30-minute minimum).
Your test result could look like this: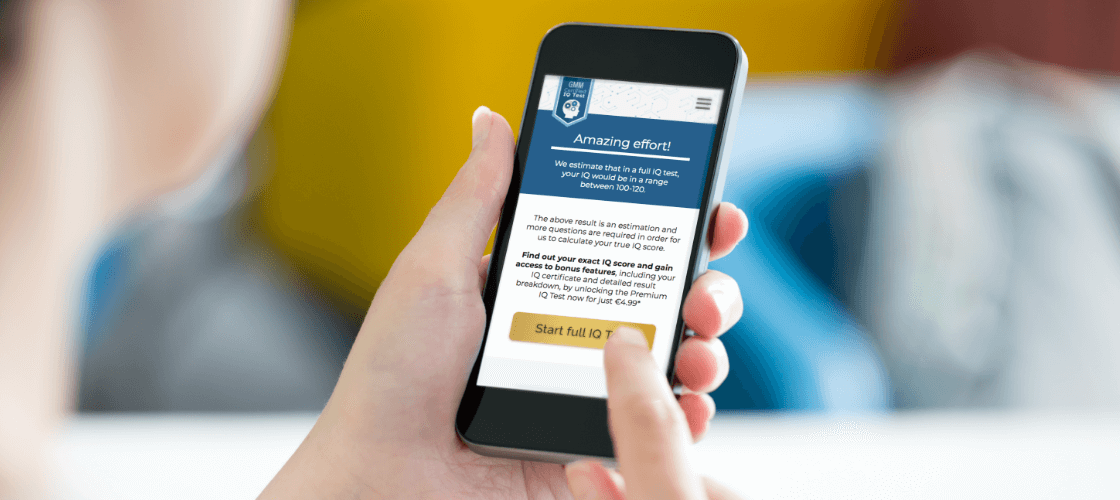 Take the IQ challenge to the next level
Each day, thousands of users worldwide are measuring their IQ with Gimmemore. There are many benefits to taking our full-length Premium IQ test, including the access you gain to your exact IQ score, which is based on an accurate in-depth analysis of your performance across multiple areas of testing. The 50 carefully-prepared questions measure your skills in different areas of intelligence — including visual perception, logical and analytical thinking, pattern recognition, and verbal comprehension — in order to produce a final score that is based on your overall intelligence. When you complete the paid version, you also receive a high-quality digital certificate with your exact score and a detailed breakdown of your results.
Important to remember!
Whether you are taking our free demo IQ test online, our Premium version, or being officially tested by a high IQ society, be sure that you follow this advice for optimal results:
Make sure you are well-rested when you take the test
Find a quiet place where you can concentrate
Read each question carefully
Before you select an answer, make sure that it is your final choice (there is only one correct answer for each multiple-choice question)
If you do not know the answer right away, look at the possible options and choose the one that you think most-closely answers the question
Think you're ready for the real thing? Take the Gimmemore IQ Test today and discover your true intelligence!